EVENT DETAILS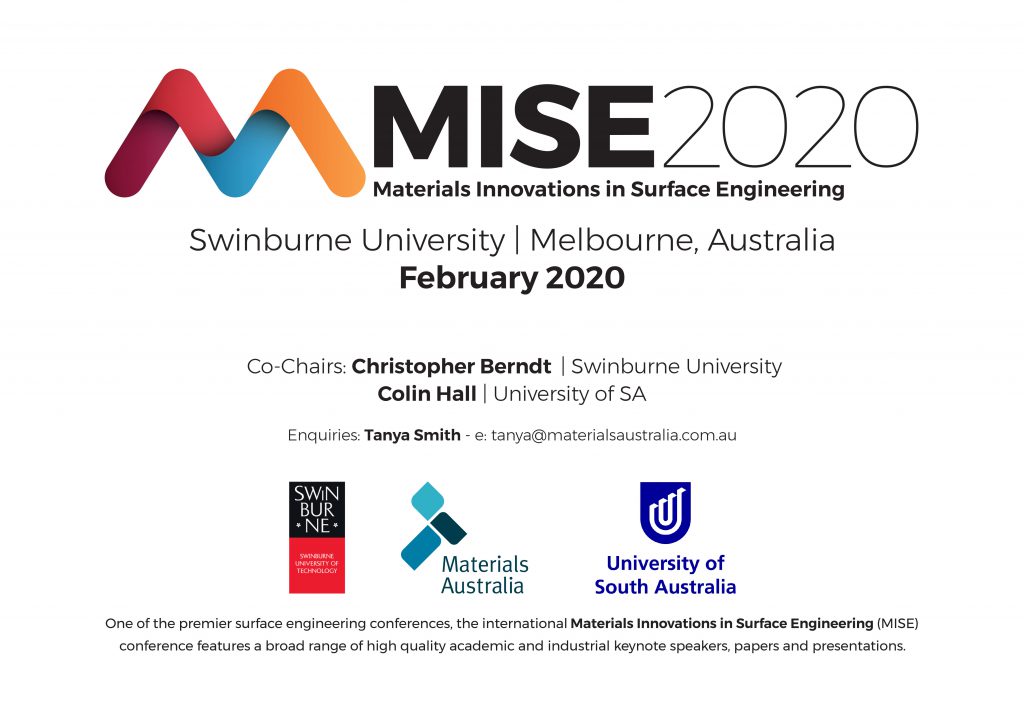 Materials Australia is excited to invite you to the third international Materials Innovations in Surface Engineering conference to be held in the beautiful city of Melbourne, Victoria.
Surface Engineering
Modification of a material's surface to improve its performance is applicable to both metallic and non-metallic materials and is of interest to a myriad of sectors in industry, all of which are striving for innovation, lower production costs, improved utilization, and lower downtime. This is particularly so for the supply of advanced manufactured technology and systems into Australia's mining and energy industries which will soon begin their production phase to capitalise on the major construction investment over the past decade. Surface engineering is a broad topic and includes the application of organic and inorganic coatings, surface modification by heat treatment or chemical treatment or alloying, plating, weld overlays, thermal or cold spraying, to name but a few.
The conference goal is to achieve a mix of high quality academic and industrial papers, which will provide delegates an insight into the innovative developments or trends in the industry. We expect that the conference will provide industry representatives, academic institutions and research centres the opportunity to showcase their skills and to foster relationships for future collaboration.
The conference will cover topics as diverse as:
Surface modification, analysis and characterisation
Heat treatment
Corrosion protection
Polymers and elastomers
Nanotechnology
Biomaterials
DATE
10 - 12 February 2020