EVENT DETAILS
Talk 3: Why can't you design a fail proof aircraft like the black box recorder?
The third talk part of the 2021 SEAM Seminar Series entitled 'Trustworthiness, reliability & Materials Science for Aircraft Structures', aimed to lead the conversation from a significant perspective on the topic of knowledge gap and necessary Research & Development.
Introductions: Professor Rhys Jones (Swinburne/Monash)
Moderator: Dr Andrew Ang (Swinburne)
Watch Talk Video Recording (YouTube)

Abstract: Mr Loris Molent AM is seldom asked as to why aerospace engineers cannot build an aircraft from the same stuff as the black box flight-data recorder. Simply, it must get off the ground! You get nothing for free in aerospace, every factor is traded off against another. Weight trades off performance, and even safety is traded for longevity. In this seminar presentation Mr Molent  discussed the reasons why an aircraft structure can fail during service and will focus on the most insidious issue: metal fatigue. Speaking briefly of several classic aircraft accidents to illustrate the problem.
Biography: Mr Loris Molent AM is an acknowledged authority in the fields of aircraft structural integrity, structural mechanics, structural and fatigue testing, advanced composite bonded repair, aircraft vulnerability and aircraft accident investigation. He has over 250 publications in these technical areas and is a qualified aircraft accident investigator. He has been attached to both the then Australian Civil Aviation Department and the US Navy NAVAIR Structures in Washington D.C. as an airworthiness engineer and has a board network of collaborators both nationally and internationally. Until October 2020 Mr Molent was the Defence Science and Technology Group's Head of Emerging Aircraft Structural Integrity. In 2010 Mr Molent was presented with the Minister's Award for Achievements in Defence Science, in 2016 was awarded with a Member of the Order of Australia (AM) in addition to having received numerous team achievement awards. He is currently a consultant and trainer in Aircraft Structural Integrity, Air Accident Investigation and novel fatigue analyses methods.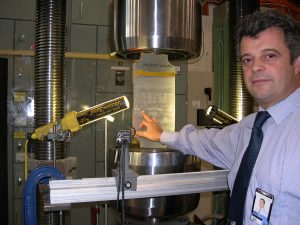 Loris Molent AM
Aerostructures Consultant
PRESENTED BY:
Mr Loris Molent AM (Aerostructures Consultant)
DATE
15 April 2021